Open House - The Real Estate & Mortgage Show: September 5th 2023
Date Posted: September 5, 2023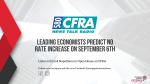 On this episode the big topic is the upcoming Bank of Canada announcement on September 6th 2023. Many economists are predicting that there will be no change to the prime rate on Wednesday. With the constant increases over the past year, Canadians have been feeling the strain on the dollar within the past few months. Typically when interest rate hikes occur, it can take about 6 months to feel the effects in the economy. The Bank of Canada is trying to prevent a recession by increases rates, however, some economists say there will be a mild recession while others say there won't be a recession at all.
To listen to the latest full episode, click here.
Contact your Mortgage Broker today for trusted advice.