Open House - The Real Estate & Mortgage Show: July 18th 2023
Date Posted: July 18, 2023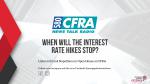 After the Bank of Canada announced yet another rate hike last week, we are beginning to wonder when it will end. Shortly after the pandemic the BoC announced that interest rates would stay low for a long time and encouraged Canadians to spend, however, the opposite has happened.
Listen to Frank and Dory discuss the current interest rate environment and other issues in the mortgage and housing industry.
To listen to the full episode, click here.
Contact your Mortgage Broker today for trusted advice.