Open House - The Real Estate & Mortgage Show: August 21st 2023
Date Posted: August 21, 2023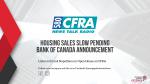 Frank and Dory discuss current housing trends as the housing market has slowed down. Canadians are being more cautious before buying with the uncertainty of the future for interest rates. Again we see many people sitting on the sidelines in anticipation. The next Bank of Canada announcement is on September 06th.
To listen to the latest full episode, click here.
Contact your Mortgage Broker today for trusted advice.