Open House - The Real Estate & Mortgage Show: August 14th 2023
Date Posted: August 14, 2023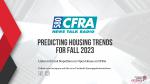 Frank Napolitano of Mortgage Brokers Ottawa and Paul Rushforth of Paul Rushforth Real Estate discuss predictions for what's to come in Fall 2023, especially regarding the next Bank of Canada announcement on September 6th 2023.

You can catch them live Saturday mornings on CFRA 580 CFRA.
To listen to the latest full episode, click here.
Contact your Mortgage Broker today for trusted advice.