How You Can Reduce Your Monthly Payments
Date Posted: August 2, 2023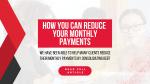 The two topics we hear most about these days are inflation and interest rates.
We can help with that. Even with the current interest rate environment we have been able to help our clients reduce their monthly payments by consolidating their debt or through other strategies. Please see a debt consolidation example below.
If you are looking to reduce your monthly payments, please contact us by phone or email, one of our agents would love to help.